These Trico wipers are made of high-quality rubber polymers that provide improved wiping results in rainy conditions.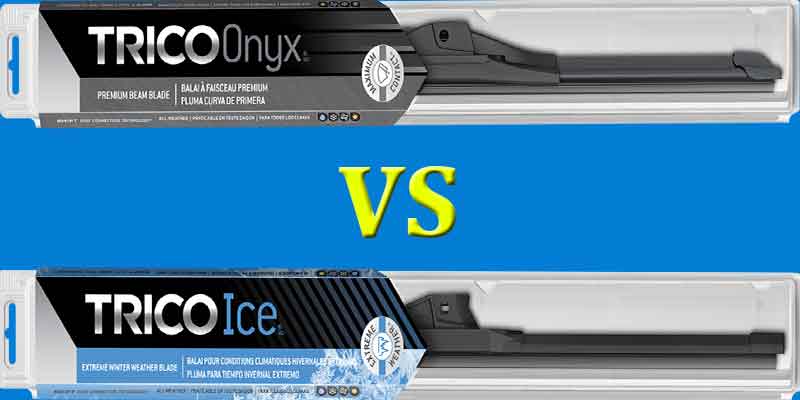 Beam blade technology sets these wipers apart from conventional blades by effectively reducing smears and streaks.
Furthermore, their ease of installation makes it user-friendly, as customers can mount wipers without visiting a service station.
Similar Features of both blades:
Both blades are made of high-quality, long-lasting materials.
The installation is straightforward.
Both provide a one-year warranty.
Both are beam wiper blades.
They attach quickly and easily to most wiper arms.
Both have an aerodynamic design that reduces wind lift and noise.
Both have been tested for 1.5 million cycles.
Trico onyx:
Trico Onyx wiper blades have a unique and distinctive style.
Trico Onyx wiper blades are designed with a memory curve steel beam that conforms to the shape of your windshield.
Trico Ice:
It has wedge style spoiler.
Specifically made for extremely cold weather.
Specifications:
Name
Trico Ice
Trico Onyx
Material
Synthetic rubber and galvanized steel structure
High strength polymer shell and spring steel beam
Blade Sizes in market (inches)
13 to 28
14 to 24
Blade type
Beam
Beam
Application
Vehicle Specific fit
 Vehicle Specific fit
Spoiler
Wedge style Aerodynamic
Aerodynamic
Adapter
Side Pin Adapter (4.8mm and 6.35mm)
Bayonet Adapter (7mm)
Hook Adapter (9×3 and 9×4)
Pinch Tab Adapter (4.8mm and 6.35mm)
Pin arm (4.8mm)
Pinch tab (5mm)
Pinch tab (7mm)
Bayonet (7mm)
Bayonet (9mm)
Hook (3/16″, 1/4″, 5mm, 6mm, 7mm)
Side lock (22mm)
Coating
Teflon
Teflon
Side by Side Comparison:
Trico Onyx
Trico Ice
Material & Design:
Trico Onyx:
The Trico Onyx features a beam blade design that evenly distributes pressure down the blade's length to follow the curve of the windscreen for a quiet and squeaky wiping experience.
The sleek and aerodynamic shape of the Trico Onyx wiper blades reduces wind noise and lift. They are also made of a strong rubber material that is intended to provide long-lasting performance.
The Trico Onyx wiper blades also have a protective coating that promotes durability over time by assisting in corrosion resistance. Furthermore, they have a low profile design with no visible metal parts, which can aid in the prevention of snow and ice accumulation for better visibility in winter weather.
Trico Ice:
Trico Ice wiper blades are made from a variety of materials to perform well in icy and snowy conditions.
The rubber component of Trico Ice wiper blades is made of a specially formulated synthetic material that is designed to remain flexible even at extremely low temperatures.
This allows you to wipe consistently and without streaks even in the harshest winter conditions.
Trico Ice wiper blades are also tough and heavy-duty, designed to withstand the rigours of winter driving. The frames of Trico Ice wiper blades are made of corrosion- and rust-resistant galvanised steel.
Performance:
Water repellancy:
Trico Onyx wiper blades are made of strong and flexible rubber, allowing for long-lasting performance and a quiet, comfortable wiping experience.
The rubber part is supported by a strong steel beam that has been treated with a unique polish to prevent corrosion and increase longevity.
Furthermore, the Trico Onyx wiper blades' sleek and aerodynamic shape contributes to reduced wind noise and increased visibility in all weather conditions.
The Trio Onyx wipers have a hydrophobic coating that repels water and improves visibility in wet conditions.
Water is effectively repelled by the friction-reducing components of polymerized rubber, which also prevent streaks and improve vision.
The Trico Ice wiper blade is made of tough material and is designed for use in harsh winter conditions.
The synthetic-blend rubber wiping element is designed to remain flexible in cold weather, making it effective at removing ice and snow from windscreens.
Both perform admirably because, they are beam-style wipers with evenly distributed pressure on all points.
In comparison, Trico Onyx takes lead because it is specifically designed to for all types of weather, whereas Trico Ice is designed to wipe ice and snow on colder areas with subzero temperature.
Wiping effectiveness:
The amount of force a wiper blade applies to a car's windscreen determines its effectiveness. Wiper blades with a beam design apply uniform pressure along their entire length.
Different wiper blades, however, can exert varying amounts of pressure depending on how they are made.
Trico Ice's shell is made of a synthetic blend that virtually eliminates wind lift and has an integrated structure that seals out anything that comes its way.
It is guaranteed to provide 98% coverage, resulting in better wiping efficiency. Its low-profile design maximises visibility.
Its curved shape increases flexibility and grip, allowing it to remove even the smallest water droplets.
Onyx outperforms the competitor in beam wiper performance thanks to its unique Aerofoil Vortec design.
Because of its strong frame, it can withstand wind speeds of up to 135 mph.
This pressure is applied to the blade to create a downward push, resulting in a firm connection and, ultimately, better wipes. Swept wing design also results in a uniform pressure distribution across the entire surface.
Its wiping efficiency is further enhanced by its improved composition, as its squeegee features relatively enhanced polymer, which effectively removes moisture from the glass.
Both wipers are distinct in this domain, possessing identical characteristics and features that enable them to carry out the same tasks with equivalent efficacy and efficiency.
Performance in Extreme weather:
Tico Ice was created specifically for extremely cold climates and locations with temperatures below zero.
It quickly and effectively removes snow. Rubber is a flexible material that does not stiffen in cold weather.
This is due to the wiper components' high strength and durability. The flexible beam blade design of the Trico Ice provides the driver with excellent vision even in low-light conditions.
Trico Onyx, on the other hand, is a more durable solution in windy areas due to its sturdy frame and Vortec design, which allow it to withstand significant wind pressure.
The superior performer will be determined ultimately by the driving environment and weather conditions. Trico Ice excels in colder climates, while Trico Onyx excels in windy conditions.
Cost & Warranty:
Trico Ice and Onyx both offer 1 year warranty. Trico Onyx is expensive in comparison.
Conclusion:
Both wipers perform admirably. Trico Onyx has an advantage because it is designed for all weather conditions, whereas Trico Ice is only intended for colder climates.
However, it is very expensive in comparison, so which one you prefer is entirely dependent on your needs.