PIAA Super Silicone possesses a beam-type blade, on the other hand, PIAA Aero Vogue contains a hybrid blade type. However, the blade material and frame color of both these wipers are similar plus they come in with identical warranties as well.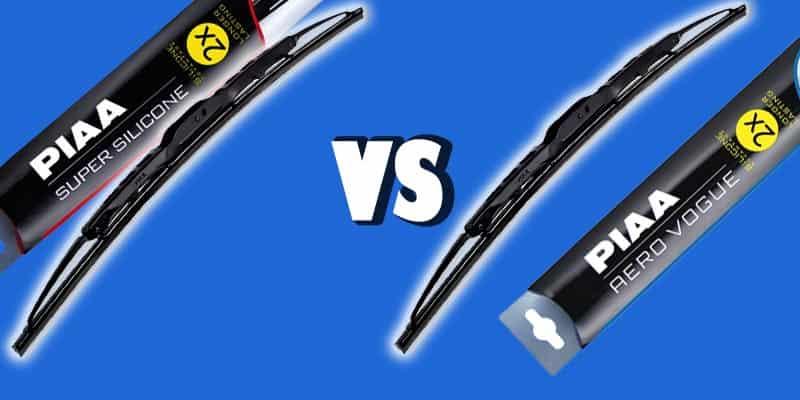 Lets take a quick look at both wipers:
Silicon has a beam blade type meanwhile Vogue possesses hybrid blades.
More sizes of Silicone are available compared to its twin.
The weight of Vogue is lower than its counterpart making its handling easy.
Vogue is ahead in terms of performance due to its hybrid blade design.
The period of replacing these blades is identical.
The warranty provided by the manufacturer of these products is similar.
Silicon's lower price makes it more economical.
Silicone has a frameless conventional beam blade made up of rigid silicon rubber providing satisfactory performances. Due to the absence of metal claws, these beam blade wipers are more flexible than the former rubber blades, thereby these wipers make decent contact with the windscreen resulting in acceptable rinsing.
These wipers have an equal number of pressure points which helps to produce less noise during their operation and super silicone material ensures to enhance the wiper life twice than the previous simple rubber blades.
The activated silicon coating further helps in removing the rainwater from the windshield effectively. The aerodynamic spoiler presence aids in product wiping performance.
Vogue, meanwhile, has a hybrid blade design providing a more commendable cleansing performance. The material of its blades is also silicone same as that of its rival. The wiping blades make more contact with the windscreen which results in better rinsing.
Less chattering and airlifting of the wiper are seen due to the presence of a new "Pass-through" technology of Aero-style cover. The silicone material prolongs the duration of wiper replacement.
These wipers are very effective in extreme conditions like during heavy rainfall in addition to this they perform decently in snowy situations as well. Likewise, the aerodynamic spoiler is present in this wiper to convert the high-speed air into pressure for enhancing wind screen cleansing.
In contrast to Silicone, Vogue has dominant overall performance, has easier handling due to its lower weight, and produces lesser sound during its functioning. However, it is available in a lesser number of sizes and is more extravagant compared to its counterpart.
Side By Side Comparison:
PIAA Super Silicon
PIAA Aero Vogue
| | | |
| --- | --- | --- |
| Details | PIAA Super Silicone | PIAA Aero Vogue |
| Blade Material | Silicon Rubber | Silicon Rubber |
| Available blade sizes (inches) | 11 to 28 (except 23 and 25) | 12 to 26 (except 23 and 25) |
| Blade type | Beam | Hybrid |
| Connector Type | Large J hook | Large J hook |
| Construction type | Frameless | Frameless |
| Wiper Replacement Duration (months) | 11 to 12 | 12 |
What do their design tell us?
Silicone has a frameless conventional beam blade design.
The blades are manufactured from rigid silicon rubber.
The frame of these wipers is aerodynamic which helps in gripping the windshield more firmly during high-speed traveling and reduces the problem of corrosion.
The frame is also zinc plated and treated with other chemicals to increase further shielding against UV radiations, extreme temperatures, and many other factors. The edges of these wipers are coated with graphite.
An equal number of pressure points of the frame aids in providing quiet and streak-free performances.
The aerodynamic spoiler available in this wiper ensures to convert the fast-moving air into effective wiper pressure for more compelling rinsing.
The wiper blades have a large J hook connection type.
Vogue has a frameless hybrid blade design. Just like its peer, the blades are developed from silicon rubber that shields against UV rays and high-temperature damage.
The modern PIAA silicon technology efficaciously removes water from the windshield along with super quiet and streak-free performances.
The availability of asymmetric aerodynamic helps in cleaning the screen more effectively. The connection of the wiper blades is a large J hook type.
Silicone is accessible in more sizes therefore its compatibility is greater compared to its competitor. In terms of product weight, Vogue is superior as its lower weight makes it easier to change the wipers in comparison to its peer.
| | | |
| --- | --- | --- |
| Wipers | PIAA Super Silicone | PIAA Aero Vogue |
| Weight (lbs.) | 1 | 0.62 |
| Available sizes (inches) | 11 to 28 (except 23 and 25) | 12 to 26 (except 23 and 25) |
Which wiper performs better overall?
The working of these wipers is equally commendable during tough conditions.
However, the beam blade structure makes Silicone faintly behind its peer in effectively cleaning the windscreen.
The wipers produce slightly higher noise while functioning. Water streaking and chattering problems are seen slightly more in these types of wipers.
Rigid silicon being used for making blades enhances its replacement interval almost two times as this rigid silicon helps in reducing the adverse effects of UV radiations or high temperatures situations.
The wipers are needed to be interchanged after an interval between 11 to 12 months.
The aerodynamic spoiler is less effective in converting high-speed air into pressure and thus they are more prone to the problem of lifting the wiper.
The hybrid blade design of Vogue gives this wiper an upper hand over its competitor.
The larger curvature of the wiper allows greater contact between the windscreen and wiper increasing its wiping ability.
Also, the problems of water streak and chattering in these wipers are less in comparison.
The working of these wipers also produces less noise thus making them more comfortable.
Like its twin, the blade is manufactured from silicone rubber which provides greater protection against wiper deterioration, prolonging the wiper's life to double compared to the simple rubber blades.
They are required to be changed after every 12 months.
Which gives out better Warranty?
The duration of warranty of both these wipers is similar.
Both of them possess a year-long warranty in which the device can be replaced or repaired in case of any problem.
This makes them equally compatible in terms of reliability.
Difference in their Cost:
The lower price of Silicone makes it more economical compared to its rival.
This minimal price tag makes them one of the most preferable wipers among all their other competitors along with satisfactory overall performance.
On the other hand, Vogue is marginally more costly.
But this greater price is compensated by its overall dominant performance.