These silicone infused wiper blades produce exemplary wiping in all adverse climate conditions.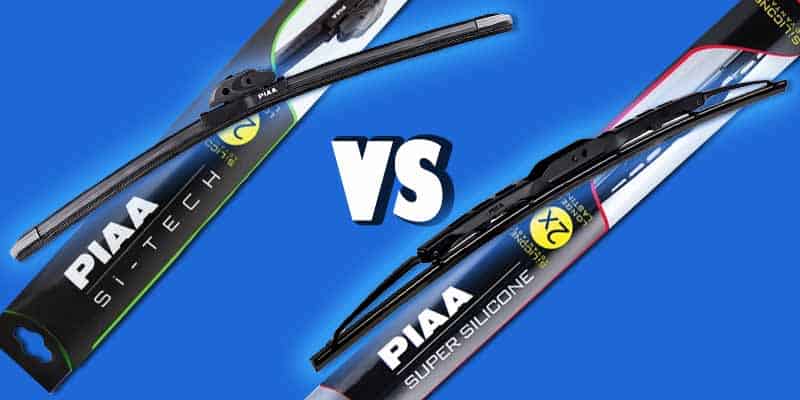 Their silicone impregnated rubber increases longevity in outdoor environments than the standard rubber found in most wiper blades.
They operate silently and the silicone compound promotes water beading ensuring unrivaled vision.
Lets take a quick look at both wipers:
Piaa's Super Silicone
Has a rich rubber composition.
Has a high water repellency.
It can be found cheaper than its challenger.
Piaa's Si – Tech
Overall does an outstanding job in all categories.
It is expensive.
Is long lasting
The PIAA Super Silicone is a conventional blade with a heavy framework which is resistant to all weather conditions and provides steadiness and uniform force resulting in actions consisting of a streak free windshield.
This wiping blade accepts silicone refills resulting in a lower cost of proprietorship over time, since there is no more need of buying more wiping blades.
On the other hand, the PIAA Si – Tech is a flat beam styled wiper blade which is frameless and prevents snow along with ice buildup.
Its silicone rubber continuously applies a layer of active silicone coating on the wind shield that leaves the wind shield smear free and smudge free.
Its aerodynamic design prevents wind drag which help it stay in place and not get loose in harsh conditions.
It is more durable than traditional blades so it barely needs any replacement and comes with five arm adapters.
In contrast to Super Silicone, PIAA Si Tech is superior since it is a beam blade that has more pressure points to provide efficient wiping, higher longevity as it has a long lasting silicone coating and also greater resistance in all seasons.
Side By Side Comparison:
PIAA Super Silicon
Piaa Si-Tech
| | | |
| --- | --- | --- |
| Name of the Wiper Blades | Super Silicone | Si -Tech |
| Medium | Silicone infused rubber | Same |
| Blade Sizes (inches) | 12 – 26 | 14 – 28 |
| Blade Kind | Conventional | Beam |
| Blade Composition | Silicone Rubber | Silicone Rubber |
| Warranty | 1 Year | 1 Year |
How much do they differ in their Design?
PIAA Si -Tech is identified as a finer design as it is a modern, frameless flat beam wiper.
Advanced features like an aerodynamic design, multi adapters, reapplying of silicone coating and have higher pliability to prevent drag give it an edge over its competitor.
PIAA Super Silicone is conventional wiper with a rigid framework decreasing elasticity which increases their tendency to crack and tear, decreasing its chance of a longer lifespan.
| | |
| --- | --- |
|   | Material and Design |
| Super Silicone | Moderate |
| Si -Tech | High |
Rubber Composition of these wipers:
Both of these wiper blades are incorporated with silicone which is twice as durable than traditional wiper blades and ensures greater visibility.
These blades maintain a sharp, clean edge for better resistance to harmful conditions.
The silicone coating help wiper blades operate quietly and extend their lifetime.
| | |
| --- | --- |
|   | Rubber Composition |
| Super Silicone | High |
| Si -Tech | High |
What Frame type do they have?
PIAA Super Silicone has a zinc coated and a heavy framework that produces equal pressure on the windshield to have a better contact with it, to increase its functionality.
This blade is inferior to its challenger since it is a conventional blade, it has a less curved shape preventing it from applying maximum pressure, decreasing its pliability.
PIAA Si – Tech has no joints or frames increasing its pressure points across the entire blade which increases the surface contact with the windshield and makes the visibility better while reducing streaks and ice buildup.
It is more sloped for improved aerodynamics, meaning it is an up-to-date wiper blade which can be used on modern cars.
| | |
| --- | --- |
|   | Frame Type and Shape |
| Super Silicone | Moderate |
| Si -Tech | High |
How fast do they remove water?
Both of these perform a vastly superior job in repelling water as both are coated with silicone and silicone itself is infused in their rubber blades.
Silicone reduces windshield chatter and lengthen blade life by reducing fatigue attributed to abrasion, acid rain, UV and ozone.
They leave silicone coating on the windshields to develop water beading in inclement weather which means that water is collected and further turned into water droplets that can then be easily removed by ordinary wiping.
| | |
| --- | --- |
|   | Water Repellency |
| Super Silicone | High |
| Si – Tech | High |
Which wiper is more efficient at wiping?
PIAA Si – Tech has a higher wiping ability than its challenger due to its beam design.
The curved blade molds and takes the shape of the wind shield increasing the coverage and having a larger exterior zone.
An aerodynamic, low profile super structure provides stability and better wiping efficiency which this wiper blade has.
PIAA Super Silicone is a conventional blade which goes with leveled wind shields that have less curves, resulting in less wiping efficiency and also have a chance of leaving smudges and streaks.
This blade has various pressure points but unfortunately those aren't distributed evenly making it lack in wiping properly.
| | |
| --- | --- |
|   | Wiping Efficiency |
| Super Silicone | Low |
| Si – Tech | High |
How these wipers perform in extreme temperatures?
Both are impeccable when fighting the inclement weather with their unique designs.
However, Si – tech has a higher resistivity to extreme weathers since it offers superlative resistance to potential climate induced damage while the low profile and silicone coating eliminates wind chatter, dragging and squeaking with the silicone coating reapplying itself and acting as an invisible water repellant barrier.
PIAA Super Silicone has a stronger framework that can eliminate blade lift off at high speeds and in stiff winds ensuring secured driving.
Its silicone rubber mixture helps it perform well in severe weathers by increasing the water repellency and giving it a longer blade life but its lack in flexibility gives it the likelihood to tear.
| | |
| --- | --- |
|   | Functionality in Severe Conditions |
| Super Silicone | Moderate |
| Si Tech | High |